History of Health Oasis Resort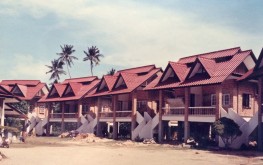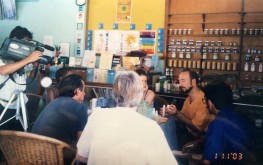 The Original Vision
The history of Health Oasis Resort all started with the vision of its mother entity H.E.A.L International Foundation NV which is based in Samoa. That of a healing centre with an objective to inspire people to spiritually transform their lives through discovering and healing their inner child. This is why our original name was Healing Child Resort & Community.
It served two purposes:
A. For adults to discover, connect and heal their inner child
B. For children to experience a holistic way of growing up and developing.
Our History
Health Oasis Resort officially opened its doors to the public on the 7th of December, 1997. At the time we were only 8 detox resort worldwide
4 in USA, 1 in Australia, 1 in India, 2 in Thailand and 1 in Portugal.
The resort at that time was no more than a simple Thai guesthouse that consisted of 22 bungalows. The grounds were bare with no trees, no grass and there were no facilities whatsoever..
In its early years was combining a guest house, a healing centre, an intentional community with focus on healing, and an informal school for children. It has attracted a wide range of people from all over the world including healers, teachers, instructors, volunteers, investors, entrepreneurs & families.
It expanded into surrounding properties, started a travel agency, a health food store, a distribution or health products, a children's school, a traditional medicine hospital, became the 1st health resort to be timeshared, offered feasibility studies & business plans for other health operations, set up manuals for franchises and joint ventures & set up global operations under its holding umbrella entity H.E.A.L International Foundation NV.
Over the last 10 years, children grew up and left with their families and the international operations were diverged & separated from the Health Oasis Resort.
H.E.A.L International Foundation NV is still the holding entity of Health Oasis. Since 2014 it has taken an active role in supporting its original objective of children's wellness by funding a multi-faced project for children in Kenya. See more details at www.abhalight.org
"Wellness is our birthright"
Why we focused on the Detox fasting
The reason we chose detox fasting among other healing practices as our signature program was that we noticed that in a very short period of time of days a distinct & irreversible healing transformation was taking place much faster & deeper than any other healing practice we have known.
We were initially inspired by the work of Bernard Jensen and Richard Anderson and his own personal detox practice strongly proved to him the healing and transformative intensity and depth of the detox process. The experiences of the detox fasters of the early years confirmed and validated the depth and effectiveness of the detox process.
When someone goes through a fasting detox program, is exposed to it 24/7 for a number of days or weeks stimulating his own inner healing powers to penetrate the entire cellular system, detoxify the body, release emotional blockages, clear the mind and stimulate spiritual growth – if desired.
Constant research and experimentation led us to a development and refinement of our detox methods, technics and products that they are still unique in the detox field in their effectiveness, safety and easiness.
Deep healing through detox has generated – among a wide range of benefits – visible results of weight loss which eventually made it one of the most successful and safe weight loss methods. However weight loss is achieved not through the "food deprivation" but through the removal of toxins from the body and mind and the metabolic changes associated with it.
Historically over the last 20 years of our operation and over 16,000 clients, we have observed that the more the focus of detox participants revolves around the metabolic changes rather than the loss of kilograms, the faster, deeper and more sustainable the weight loss results are. Undue focus on weight loss expectations tend to interfere with the detox process and limit benefits.
Gradually we have upgraded and expanded our facilities to accommodate different needs of clients while still keeping the most affordable prices in the market. This is why over 1/3 of our clients are repeat clients.Their profile are equally male and female and range in age from early 20's to late 60's with a heavier concentration in the 35-50 age range. We have had guests of over 80 different nationalities with the heavier concentrations being European, Australian, North American, Asian from Russia to China to Middle East.
A new generation is recently taken charge of the operations instilling a fresher more modern touch and these changes can be observed by our repeat clients.